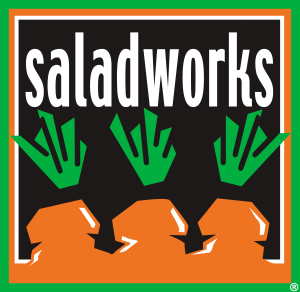 I'm all about trying to eat healthy these days and recently we had a new chain restaurant open up here in my town called Saladworks.  It's a franchise concept that focuses on fresh salads.  Yesterday I was able to give them a try for the first time.
When I walked in, the restaurant had a nice atmosphere and the workers were all very nice.  They asked me if this was my first time and I told them "Yes.".  The lady began to explain to me all the food items they offer.  They have salads, sandwiches, paninis, wraps, and soups.
They have a nice deli-like counter where you can see all of the fresh made salad toppings as well as a sample salad of each of their featured salads so you can see what they look like and what toppings they have.  It was really a nice concept and I was very impressed.  If you don't want one of their signature salads then you can "build your own".  Since I have gluten and dairy restrictions I decided to build my own salad.
I chose to start off with spring mix, then added some chicken and ham.  Next I topped it off with bacon bits, grapes, and carrots.  With the custom salads you get your base greens (i.e. lettuce, spring mix, spinach, etc.)  and then you get five toppings.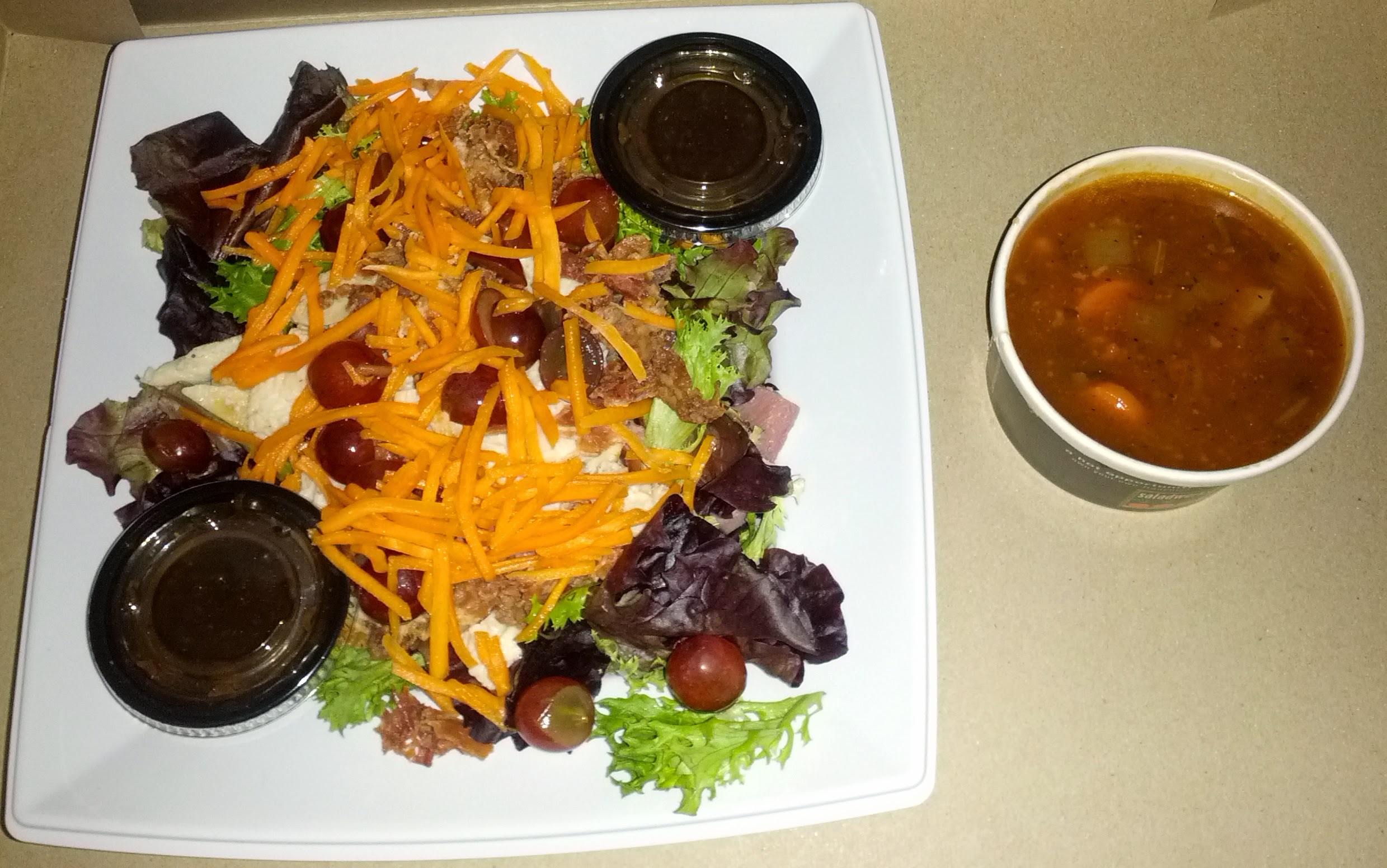 I also opted to get a small bowl of soup.  They had a vegetarian chili so I decided to try that.  They do offer combos where you can get half of salad and a soup.  I don't recall the price of this but it would probably be a bit more economical.  You do various combinations such as half of sandwich and soup or sandwich and salad.
As I moved on down the line they told me that I also get a roll with my meal.  I could choose from white or wheat.  I choose a white roll.
The total for my meal was just over $12 and this did not include a drink.  I was getting my meal to go so I didn't need a drink.  I thought this was a bit pricey but I needed to see how good the food was and if it was really worth it.
The salad that was made for me certainly looked beautiful.  The photo above was the one I took at home of the  salad before I consumed it.  I don't know if they train their workers on how to make a "good looking" salad but I was really impressed on how well it turned out.  Especially since it  freshly made right in front-of me.
Everything in the salad I had tasted fresh.  I had the fat-free balsamic vinaigrette dressing.  It was pretty good.  The chicken and ham tasted good as well as the other ingredients.  The only thing I don't know is how "organic" their salad items are but I didn't seem to have any major reactions after eating it so that's a good sign.
The vegetarian chili was more along the lines of a vegetable soup.  When I think chili I think of something a bit less "soupy" and a little more thick and meaty.  It was still okay.  Not the best I ever had, but for a basic soup it was fine.  I'm anxious to try their fiesta tortilla soup.  They didn't have that one on tap when I was there but I will try it next time they have it.  I always get the fire roasted tortilla soup at Jason's Deli (another one of my favorite places to eat because they are gluten friendly) and so I'm thinking the fiesta tortilla soup will be similar.
The white roll was your average dinner roll.  I don't eat regular bread often anymore since I have a sensitivity to gluten, but I ate this one and it was good.  There was nothing special about the roll, but nothing bad about it either.
My first impression of Saladworks was a good one.  The food was very fresh and the presentation of the food superb in my opinion.  One thing I failed to mention is they use these plastic "fancy" looking salad plates for your salad.  It certainly made the salad look more premium like you had ordered it at some fancy restaurant.
The prices are a bit high, but at many other places where you buy "premium" salads I believe you will pay a similar price. I was very impressed by the freshness of the food.  My entire visit was a great experience and then the meal was a pleasure to enjoy.
Saladworks also offers a rewards card called their "Fresh Fan Club".  Each time you make a purchase you earn points that you can redeem for food later on.  I got 94 points for my meal and 200 for registering my card on their website.  With only 200 points you can get a free item such as a brownie or a cookie.  You'll need 1000 points for a free salad.
Some other perks of Saladworks is that you can order online and they also deliver (or at least mine does).  The next time I want food delivered at home It will be great to be able to have one of these fresh salads.   It certainly beats the pizza option.
In summary, my first experience with Saladworks was a good one.  I will definitely be going back and would recommend them as a healthier choice in "fast" food.