So at my place of work we use Microsoft Outlook 2010 and Skype For Business (which is Microsoft Lync 2013).  Earlier this week I started having issues with meeting requests.  For certain people when I would add them to a meeting and try to submit/update the meeting I would get the following error popup:
"The request failed.  Please try again.  Make sure that you are signed into Skype for Business."
I had never had this error happen before.  I checked and I was clearly logged into Skype for Business.  I could add my local team to meetings fine but it seemed that those outside of my realm were having the issue.
Today, I started googling to see if I could find a solution to this annoying problem.  Fortunately I found an obscure post on the Skype community forum here.
What I found is that there is an auto-complete cache in Outlook.  Auto-complete kicks in when you start typing an email address in an email or meeting request and if that email address is "known" then it will go ahead and complete that email address for you with you having to type the entire text.
A person that was having this same issue said that they cleared their auto-complete cache and then the problem went away.  So off into the Outlook options I went to see if this might work for me.  If you go into your Outlook options screen and then click on the Mail section you will find under the "Send Messages" section a little button that says "Empty Auto-Complete List":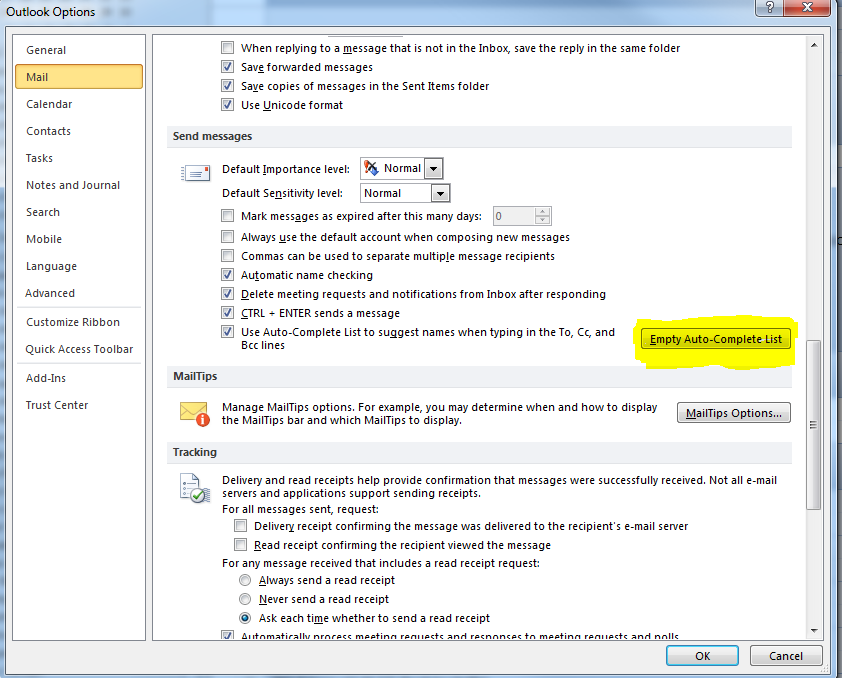 So I clicked this button.  Crossed my fingers and then closed Outlook. Next I reopened Outlook and went back to one of the meeting requests that I was having issues with.  I added the person that was causing the error and this time it worked fine.  Problem solved!
The moral of the story is if you start having weird problems in Outlook with Skype then try clearing your auto-complete cache.  Also just because Microsoft says the issue is because of one thing doesn't necessarily mean it has anything to do with that thing.
Hopefully this will help someone else out there that might have the same issue.  Have a splendid day!