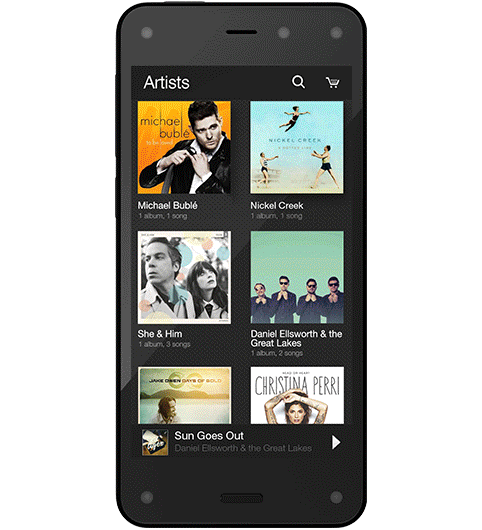 So Amazon has just made its step into the mobile phone arena wit the unveiling of the Amazon Fire Phone.  I'm very much interested in the mobile devices right now because it's time for me to upgrade to a new phone.  I'm currently using a Samsung Galaxy Nexus which has now become about extinct by mobile phone standards.  The Nexus was the first phone to come out with Google's Android 4.0 and was it just happened to come out around the time I was last due a phone upgrade.  So after evaluating all the choices I settled on the Nexus and have not regretted it.
Due to the age of my Nexus, it's having trouble handling all the new apps I put on it so I'm really anxious to upgrade to a new phone.  I was due an upgrade back in February and was very much hoping that Samsung's Galaxy S5 would be the phone I would get, but after seeing the specs. it just was not quite on part with what myself and many others hoped it would be.  Sure it's a great phone and would be much better than what I have right now, but since I only upgrade every couple of years (like 2 – 3) then I want something that is going to last.
I then set my sights on the rumors that Samsung would be coming out with a premium phone that would be a follow-up to the S5.  It has been referred to as the "S5 Prime" and more recently as the "Galaxy F".  According to rumors this phone will have the specs. that I'm looking for in my next phone.   I've been watching the news feeds daily in order to get an idea of when this new Samsung phone will release.  Some reports were saying end of June while others are now saying it might be September.  I really don't want to wait until September for my next phone but I don't want to settle for less than I had hoped for either.  Such a dilemma for a techno-geek like me.
Yesterday, out of the blue, I found out about Amazon releasing this new "Fire Phone".  Since I had been keeping tabs on the mobile phone news I was really surprised that I had not heard about this before.  I don't know if I had just missed it on the rumor chain or if Amazon just did a very good job at keeping this under wraps.  I mean it doesn't surprise me that Amazon would try to enter the mobile phone market.  They have been pushing their tablets for a while now so edging into the mobile arena makes sense in many ways.
The Fire Phone has two main features that they are promoting which helps it stand above the rest of the current devices.  First, the Fire Phone has something called dynamic perspective.  This new feature which I don't think exists on any other phone to date, allows you to view things on your phone in a way we've never seen before.  It gives you a sort of 3D view to photos, images, and stuff on your phone.  Just by tilting or turning your phone the perspective of what you see will change.   I think dynamic perspective is a cool feature, but I'm wondering how practical it will be.  Right now it just seems to be more hype to sell the phone then something that will really be useful everyday.
The other feature of this phone that Amazon is pushing is something called "Firefly".  By pressing the Firefly button you can use your phone to instantly identify printed web and email addresses.  It can recognize phone numbers, QR codes, artwork, and millions of items.  You can identify songs, TV shows, products that you take a photo of, etc.  To me this sounds very much like Google's Goggles app.  That app. would allow you to take a photo of a product or place and it would perform a Google search for it to tell you more about it.  It sounds like Amazon has done the same thing but taken it to a whole new level to make it easier for consumer use.
The specs. on this phone are not that bad.  I don't think it's as good overall as the S5 is but the Fire phone is certainly a contender and has certainly given me another option to look at in my search for my next great smartphone.  Amazon is also throwing in one year of their Prime service to sweeten the deal.  This gives you access to their streaming videos, music, and allows you to "borrow" e-books from the Kindle store.  You also give free two-day shipping on many Amazon products with the Prime service.  It certainly is a bonus for anyone wanting this phone.
The big issue for me is that Amazon's new phone  is exclusively available through AT&T.  I currently have my service with Verizon Wireless.  I've been a long-time Verizon customer and so the question comes down to is this new phone worth the hassle of switching to AT&T.  I've had many customer service issues with AT&T in the past when I was one of their customers.  So far I've never had any major issues with Verizon.  I'm quite happy with Verizon and their coverage so I'm not really motivated to move away.  I'm also not one that likes to get locked in to a certain company's products.  Like the Apple and their iPhone, Amazon seems to be trying to provide a one-stop provide everything experience.  I've not used Amazon's fire operating system yet, so it will be interesting to see how easy it will be to install other apps. on their phone.  If I want to get my music from say, Google, instead of Amazon, will their be any issues doing this?  I'll be watching the reviews to see how this shakes out.
It's great to see some other competition enter the smartphone sector.  I will be watching carefully to see how Amazon stands up against the big players like Apple, Samsung, and Google.
In the mean time I will be weighing my options and watching the latest news feeds to see if I can determine what my next phone would be.  I would love to hear your feedback about this?  Would you switch to AT&T for this new Fire phone?  Comment below and leave me your thoughts.