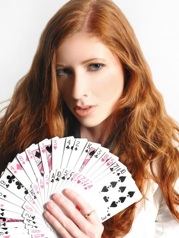 Every since I was a little kid I've always been fascinated with magicians.  I remember always watching every David Copperfield episode that was on TV and enjoying watching people perform magic whenever I could.   I even had my own magic kit as a kid.
Recently on YouTube I discovered a female magician from Russia.  Her name is Ekaterina Dobrokhotova.  I found this to be odd because in all my life I don't think I've ever seen a female magician.   It seems everyone I've ever seen was a guy so I was certainly intrigued and had to check out some of her videos.    I'm sure there are other female magicians out there, but I've never come across them.
In her videos she mostly does card tricks, but the way she incorporates the tricks and music  is quite awesome.  Just the way she handles the cards is fun to watch.  I would love to see her in person sometime.  You can check out her website here.
To see her perform one of her tricks check out this video:
Be sure to watch for more cool stuff I find from the Internet.